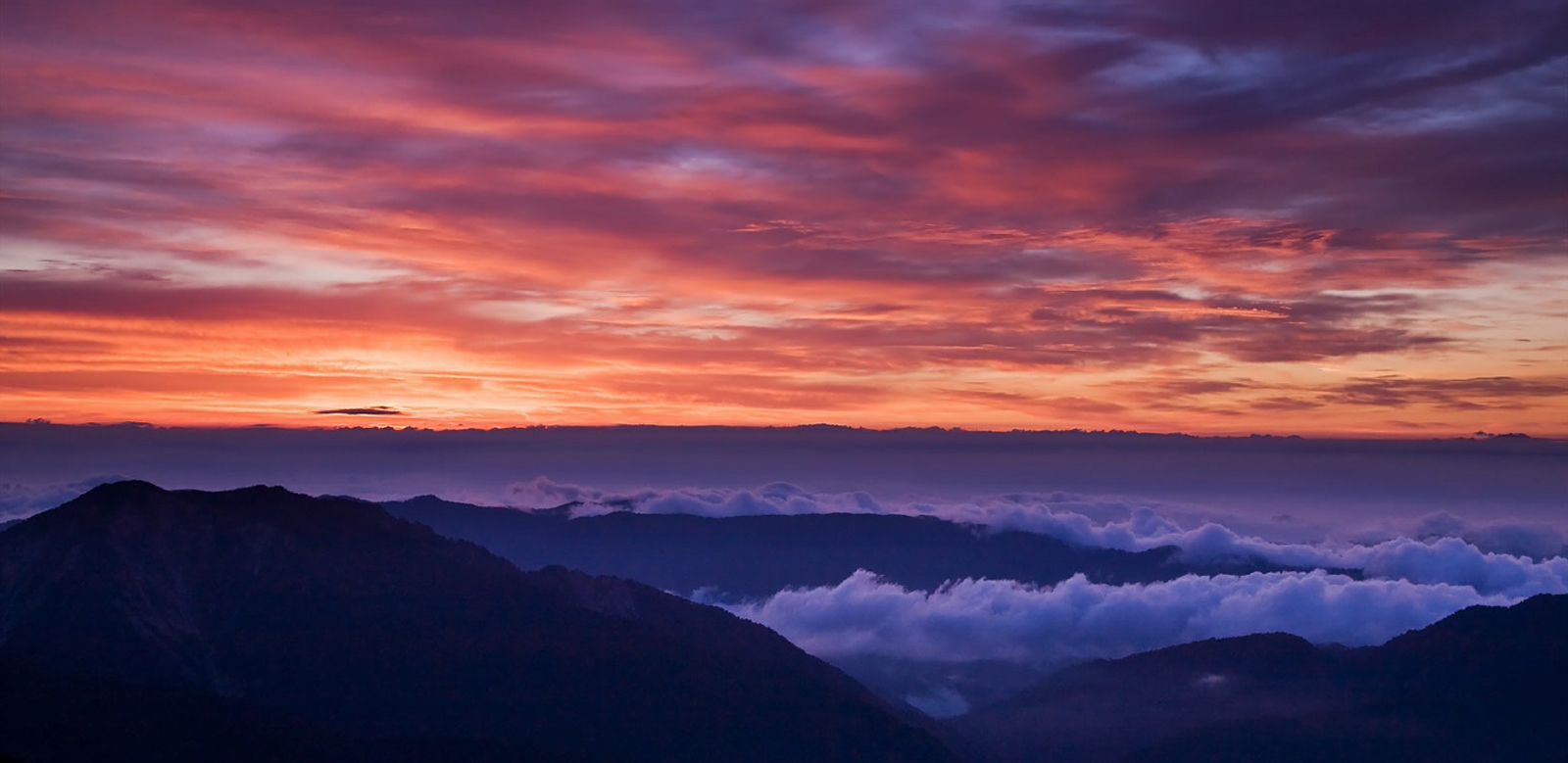 Welcome
Houshi has a 1300 year history of stylish hospitality.
This Year - This Month - Today
A Once-In-A-Lifetime Experience
We have been welcoming guests with warm hospitality for as long as 1300 years.
The legacy of our old hotel has been cherished and refined to this day, and will continue with the future generations.
We approach our work with diligence, humility and resolve each day to welcome new customers.
Our wish is for all visitors who come our way to enjoy a day of relaxation and delight.
Free WiFi available in lobby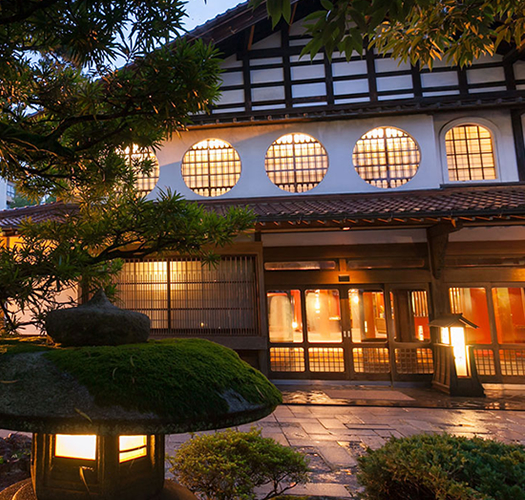 Hot Spring Baths
The Oldest Onsen in the Hokuriku Area
Awazu Onsen is said to have been founded over 1300 years ago by the great monk Taicho Daishi under the command of the mountain deity Hakusan Daigongen. These hot springs were a gift from the Hakusan mountain gods to relieve and cure the injuries and illnesses of humans. In the past, many people traveled here to have their infirmities treated with these holy waters blessed by the gods that live around Awazu. Houshi had a humble beginning as a sanitarium lodge, but the 1st generation owner Zengoro believed that Houshi should become a proper hot spring inn to soothe both the body and mind. It is our honor to continue this tradition for posterity. In modern times, few people use hot springs as treatment for injuries and illness, but the beneficial effects are still significant and real. We wish to share the proper ancient method of 'taking the waters' with our guests so they can fully enjoy the healing properties of natural hot springs. Houshi was founded in the year Yoro 2 (718 A.D.).
Since then, Houshi has been loved by many generations, and continues to maintain precious tradition in modern times. Houshi is proud to bear witness to centuries of history and tradition, and was recognized as one of the oldest operating hot spring hotels in the world, officially verified by the Guinness Book of World Records. Spending a night at Houshi is certain to remind you of the elegance of old Japan. Guests can experience the depth of the ancient and beautiful Japanese landscape in an authentic setting that you're unlikely to find anywhere else.
East of Houshi lies Mount Hakusan, recognized since ancient times as one of Japan's Three Sacred Mountains. To the West, the nearby coast of the Sea of Japan offers fresh seafood. All five senses are sure to be satisfied by the full bounty of local nature. We are proud to manage a ryokan that is worthy to represent Awazu Onsen, the beloved land of the mountain gods. The legend of Houshi has been handed down through the generations, starting with the first tapping of the hot spring 1300 years ago and continuing to this very day.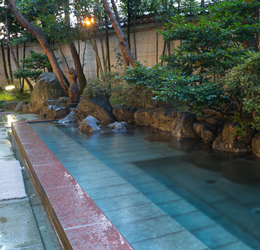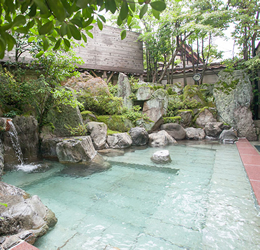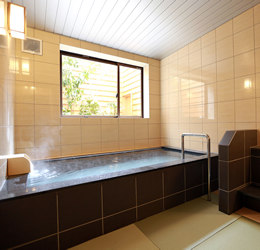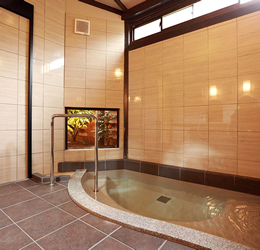 Main Baths (Houmei & Enmei)
Houshi's pride is not limited to the quality of our hot springs.
Our baths can be enjoyed thoroughly together with the natural scenery as it changes moods with the seasons and weather.
Watch the fragile buds grow in Spring, feel the powerful life of Summer, indulge in gorgeous colorful Autumn scenery, and warm your body and soul to the core in the pure white scenery of Winter.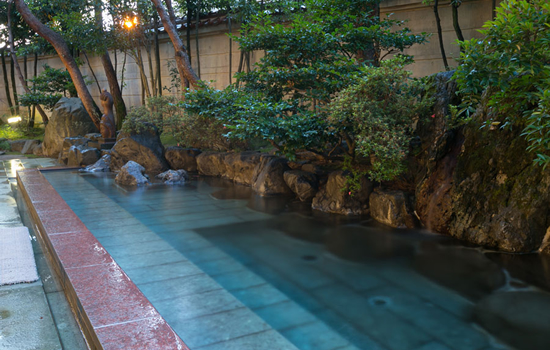 Men's Main Bath (Houmei)
The changing tint of the stones beneath the water bears witness to the natural components of the hot spring water. The outdoor rotenburo bath has deity statues of South American gods of Love and Peace to provide guests with a thorough purification of both body and soul.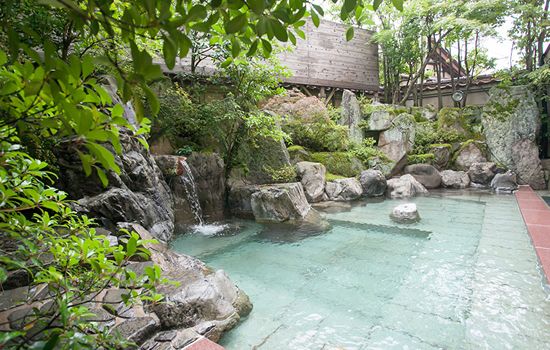 Women's Main Bath (Enmei)
The volcanic Shakudani tuff stone and Indian sandstone that paves this bath raises the quality of the natural onsen to make softer water. Many guests have praised the thoughtful combination of the natural hot spring water and stones. Please try it for yourself.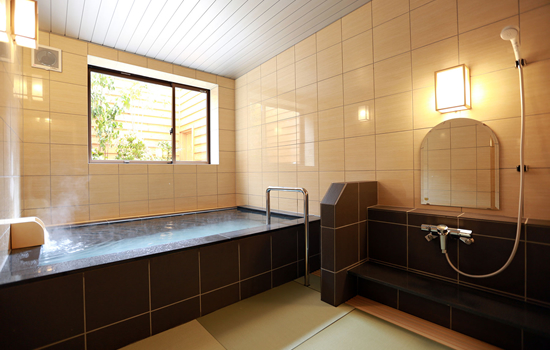 Private Baths (Taicho no Yu & Garyo no Yu)
Private baths are available by reservation only for customers who want to enjoy the onsen more freely away from the view of other guests. The two baths are named after Houshi's legendary founders, Taicho Daishi and Garyo Houshi. Guests can feel a sense of the history of Houshi with the delicate details of these two private baths.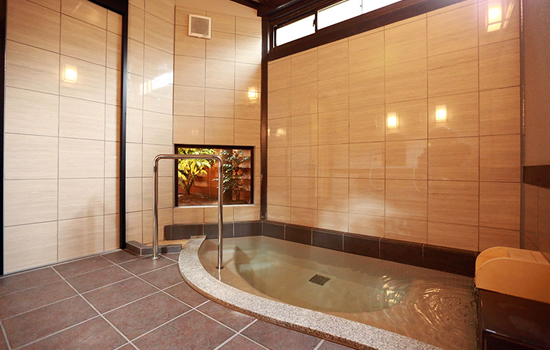 Hotel Guide & Rooms
Four wings are connected in a diamond around the Japanese garden. Each wing is named after one of the four seasons: Spring, Summer, Fall, and Winter.
Since long ago we have studied the many beauties of nature to give our guests a sense of the subtle change of seasons.
Discover an authentic Japanese experience with appreciation for the unique expressions of each season.
The circular flow of human life parallels the beauty and gradual change of the seasons. Please enjoy a rejuvenating stay in Houshi's modern rooms, inspired by the four seasons and the gentle flow of time.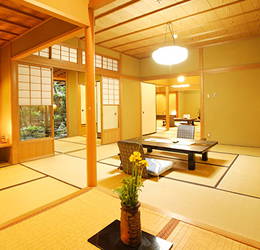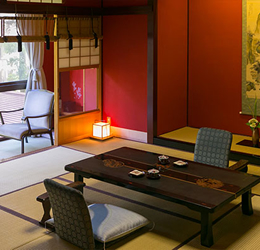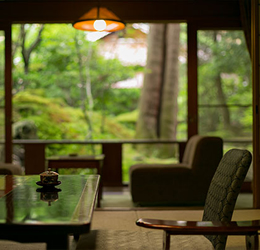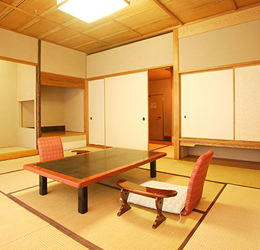 The Enmeikaku VIP Hall was designated as a Registered Tangible Cultural Property of Japan in 2016.
Positioned in the heart of the garden, Enmeikaku is a Goten palace-style guest house built of cypress by elite carpenters during the Meiji Period. It is a special wing of the hotel which has hosted members of the Imperial Family of Japan including the families of Prince Kaya, Prince Mikasa and Princess Takamatsu, as well as VIPs of industry and culture.
Enmeikaku was built by wooden joinery construction without using a single nail. Visitors will be left breathless by its elegant high ceilings, gorgeous black lacquer papered doors and glamorous gold flake sliding doors with agate handles.
Please enjoy a glimpse of Enmeikaku as you walk through the garden during your stay.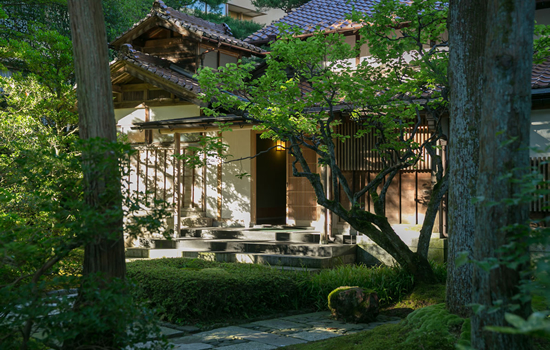 Autumn Wing
Special Suites
Choose from 3 private suites with unique layouts for a relaxing stay.
Horai-no-Ma
A favorite choice for repeat VIP customers featuring a wide floor plan and sophisticated furniture. Guests can enjoy a splendid view of the garden from inside, or enter the garden directly from this room.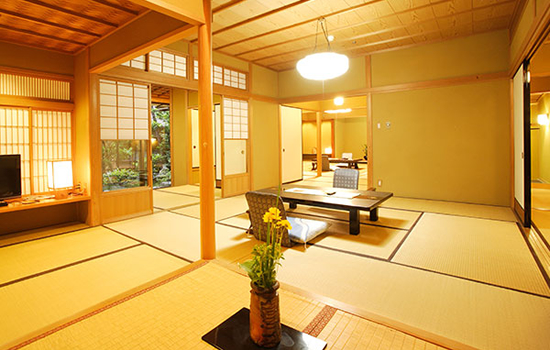 Yoro-no-Ma
The rooms of this spacious suite connect effortlessly to create a wide, comfortable space. Guests will find themselves at ease in this mature and elegant atmosphere.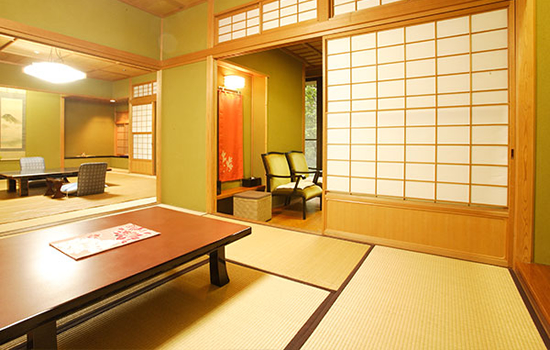 Choyo-no-Ma
This popular two-story suite has large rooms on both floors ideal for groups and large families.
Our most popular rooms by request year-round. These 12.5 tatami mat-size rooms (245 square feet) have a clear view of the garden that makes them customer favorites.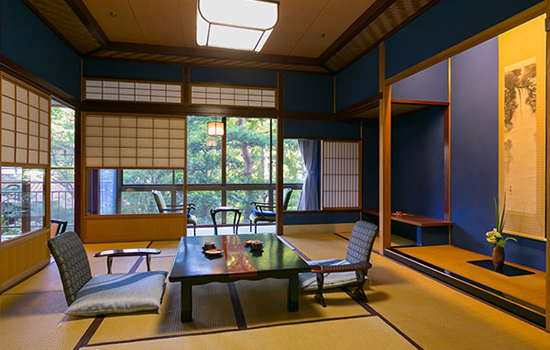 These classic guest rooms are favorites of our long-term customers. Each room has large windows facing the garden for an exquisite view. Some guests even say that the view of the Japanese garden is so perfect that they feel like they're actually outside.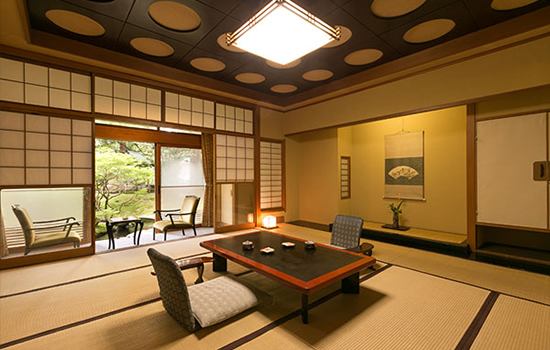 These rooms offer a tranquil and comfortable space. The chic designs have a high reputation among female customers, and the proximity to the baths and lounge make these rooms a popular choice.
These rooms are ideal for customers who want a deeper encounter with Houshi's 1300 year history. Guests can enjoy the tasteful traditional interior palette and wooden construction of these authentic Japanese-style rooms.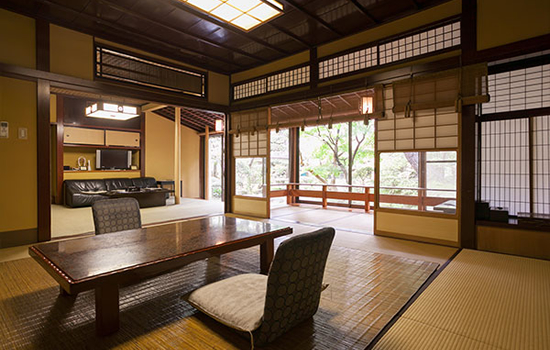 FOOD
"Food is one of the best reasons to travel."
At Houshi, we are always seeking the best foods to represent the unique flavors of the Hokuriku and Kaga areas.
As one of the most famous ryokan hotels in Japan, it is our duty and privilege to serve our guests a meal that is worthy of the Houshi legacy.
We strive to fully satisfy the expectations of our guests for an enjoyable and unforgettable experience.
Guests may select from three dinner course options.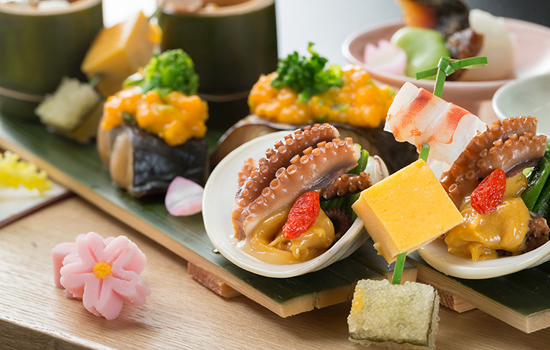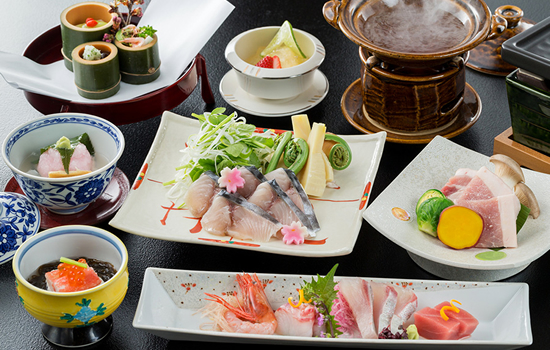 Hakusan Course
Discover new favorites with the chef's personal selections for the day. This "Master's Choice Course" uses an exciting mix of ingredients, preparation and presentation. Houshi is proud to welcome innovative news chefs that deliver the delightful essence of Japan through authentic washoku cuisine. Meals are served inside the guest rooms for a private and relaxing dining experience.
Kaga Course
This "Houshi Standard Course" is a classic seasonal kaiseki meal. Guests can appreciate elegant interpretations of familiar recipes with careful attention to seasonal themes and flavors. Dishes are prepared by specialists assigned to simmer, grill, and fry. Our cooks approach their kitchen duties with pride and diligence under the supervision of a Master Chef. Please enjoy the best of each season in the Hokuriku area. Our staff will explain the origin and meaning of each dish on behalf of the Chef.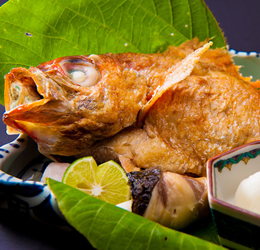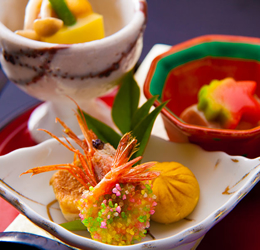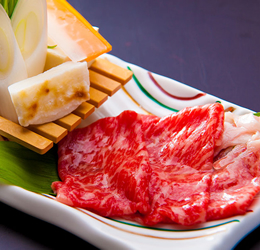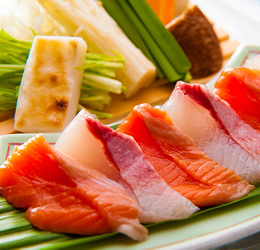 Japanese Garden
Immerse yourself in serenity. Take a quiet moment inside a perfect blend of quiet nature and elegant Japanese design.
Many of our guests have said that walking through the deep mossy garden of Houshi makes them feel as if they've stumbled across an ancient hidden mountain temple.
See the strength of the massive and ancient trees strong enough to survive the harsh Hokuriku winters for centuries, feel the gentle grace of the red pines, and admire the resilient and straight cedars. These noble old trees radiate a sense of compassion and wisdom that can only be gained with age.
A modern Japanese landscape designed by the 16th generation garden master Toemon Sano blends with the ancient forest to deepen and enrich the scenery of Houshi.
Please enjoy the change of the four seasons with brilliant fall colors, serene winter views, lively spring blossoms and the refreshing breeze of vivid summer.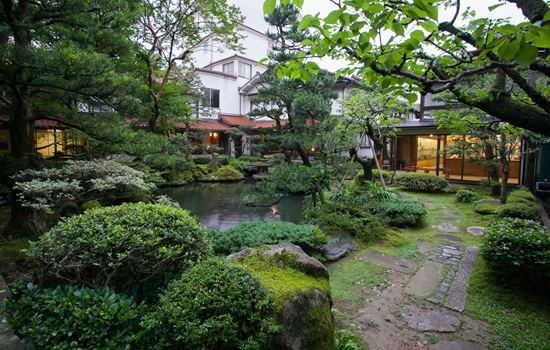 More About Access
It takes 30 minutes by car to Komatsu Airport, 50 minutes by car to Kanazawa, one hour 30 minutes by car to the Shirakawa-Go(volost).